Tom* began individual music therapy teletherapy sessions this past December because he has had Parkinson's Disease (PD) for 10 years and now his spouse says she can't hear him speak and continually asks him to, "Speak Up!" I also knew Tom before the pandemic lockdown of 2020 as he attended an in person music therapy group for people with PD. After attending the in person singing sessions Tom realized the strong effect singing at least once a week, and going through specific research based vocal warm-ups, helped preserve and often allowed him to speak louder when in conversation with others. After a break in sessions due to the COVID-19 pandemic, he reached out to me to begin twice weekly teletherapy sessions to begin to increase his vocal volume once again. He often self reports, "This is really helping! My spouse doesn't complain as often about my soft speaking voice. I also love singing the songs we sing together! I've even sung with my grandchildren!" (*Tom's name and case details have been changed slightly for privacy)
On other occasions over the past few months, parents have reported that they could see their children physically relax when the music therapy session began over teletherapy. The pandemic has brought on a larger sense of anxiety in children and adults and these days, much of the goals of music therapy is to provide a sense of safety, familiarity, and support.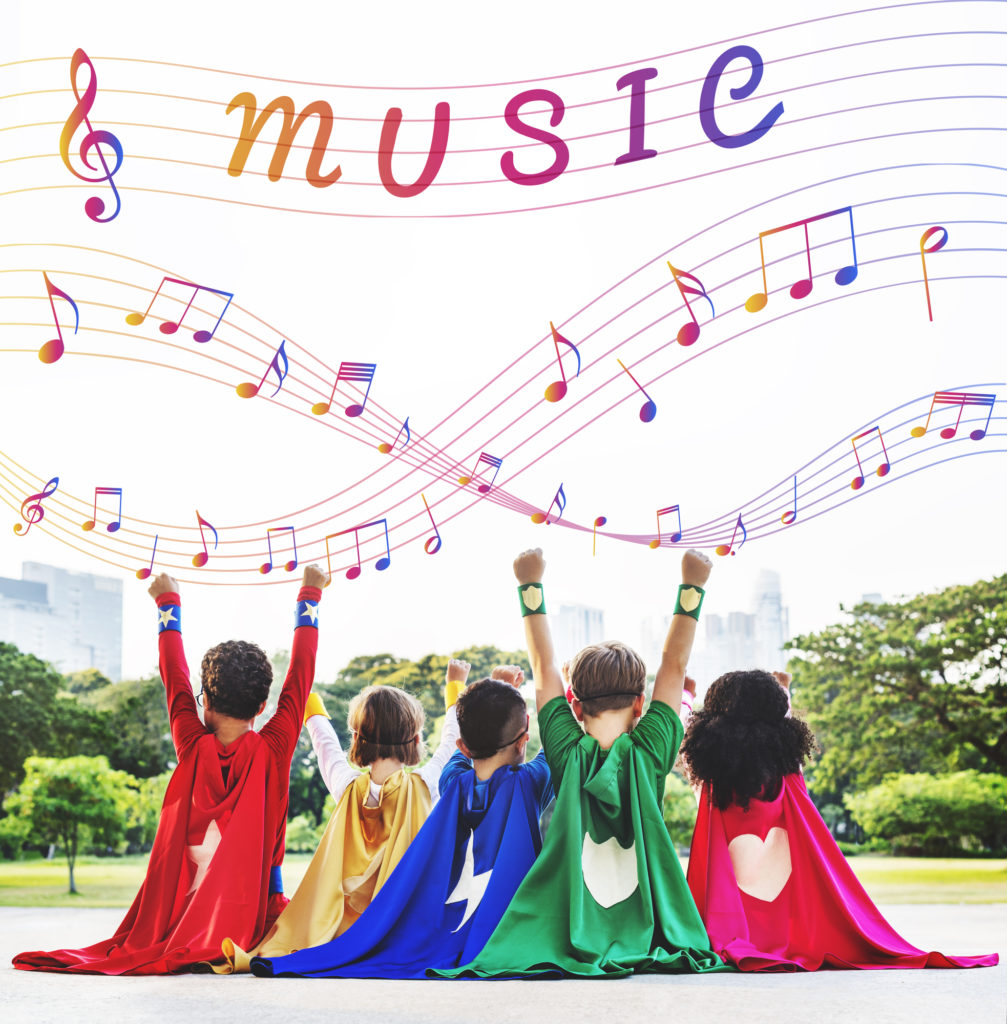 Music can bring out our "superpowers". There is a relationship one has with the music that helps meet an individual goal, such as to increase feelings of wellbeing, to relax, to speak up, and increase confidence. Perhaps someone mentioned the practice of music therapy to you, or you saw a post on social media spotlighting the benefits of music therapy. Music Therapy has increasingly gained more attention in the 15 years I have been in practice. Alternative health care practices as a whole has increased as a way to often complement and enhance traditional health care practices. Music therapy does not replaces doctor's visits, other important prescriptive therapies, but it can complement other other therapies as well as stand on it's own as an effective therapeutic intervention.

Once, I was talking to someone I met at the park while with my kids and I told her I was a music therapist. She wanted to know more about music therapy which sparked a conversation with her. This kind of conversation is not uncommon for me. At this particular instance, one of my kids remarked, "Mommy, you can talk about your job any where!" Yes, I can. Yes. I can.

The common definition for Music Therapy is that it is an established health profession in which music is used within a therapeutic relationship to address physical, emotional, cognitive, and social needs of individuals. Music therapy is often individualized to individual needs and musical preferences.

A good website to find out more and gain much of the same information is the website for the American Music Therapy Associaiton www.musictherapy.org there is a great slide show on the home page that gives a great overview of music therapy. I encourage you to check it out.

What does music therapy look like at In Harmony Music Therapy of Middle Tennessee? I serve a variety of ages with a variety of needs through music therapy services. Here is the break down of my current work:

Ages 0-6: Music Together within Therapy curriculum includes a songbook and a CD of songs that are used within a developmental model of growth. Music Therapy techniques help address global developmental delays, including social, communication, movement, social-emotional, health challenges, as well as developmental and intellectual disabilities. This family centered music therapy helps foster bonding and communication between parent and child in an enjoyable and engaging activity. Diagnosis includes but not limited to developmental delays, premature birth, cancer, challenging behaviors, Cerebral Palsy, Down Syndrome, Autism Spectrum Disorder (ASD), Rhett Syndrome, Angelman Syndrome

Ages 7-21 Both individual and seasonal group sessions are offered for kids and youth with continued delays, diagnosis, and physical and/or cognitive impairment can continue to benefit from social interaction, social-emotional well being, and learning communication skills. Music pared with movement engages kids and youth with varied abilities. This includes both verbal and nonverbal communicators which can increase confidence in a growth mindset of personal agency. Therapy helps build skills and self-confidence in a fun interactive music making setting. It can also work on relaxation and coping strategies to calm and regulate the nervous system and help increase focus. Diagnosis includes but not limited to developmental delays, cancer or other health challenges, trauma, challenging behavior, Cerebral Palsy, Down Syndrome, Autism Spectrum Disorder (ASD), Rhett Syndrome, Angelman Syndrome

Adults with Intellectual and Developmental Disabilities. Currently, individual music therapy is offered for adults with cognitive impairments but wish to engage in active music making and setting goals for themselves such as to improve self-confidence, learn a leisure skill, and process more complex feelings and emotions as adults. Through music therapy services, they can learn to sing songs, play piano, or use rhythm instruments for musical and self expression.

Adults with Parkinson's Disease. Music and active music making through singing and rhythmic movement is utilized to help strengthen, preserve and slow the progression of loss of voice volume, teach supported breathing, encourage physical movement and to help lift feelings of apathy and depression. I offer both individual and group sessions.

Memory Care for Dementia diagnosis. Music therapy can help support adults diagnosed with dementia to enhance memory recall which contributes to reminiscence and satisfaction with life. Music making, especially to a person's preferred musical preferences of favorite songs can cause positive changes in mood and emotional states associated with memory loss. I also offer both individual and group sessions.
Do you know someone who might benefit from one of these music therapy services offered through In Harmony Music Therapy of Middle Tennessee? I LOVE and appreciate word of mouth referrals! I encourage you to tell your friend and/or loved one about music therapy today. Please do me a favor and share this post with someone you love. I offer a free 30 minute consultation either over Zoom, over the phone, or scheduled in person. Click the button below to find out more and get started.
All the best, Ms. Carrie